Reviews
Lost World Pinball by Bally 1978
Just wanted to thank you AGAIN for taking on the restoration of our old
pinball machine!!! Just fin...
Date Added: 07/22/2013 by Kathy Duke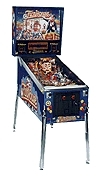 Home Pinball - service call Workorder
I own a 1980 Williams 'Blackout' Pinball machine, and recently had a home Service Call to address so...
Date Added: 06/25/2013 by Bill Albers
Kiss pinball - Bally 1978
I recently purchased a "garage find" KISS pinball machine in poor/non
working condition. I searched...
Date Added: 04/23/2013 by Mark Terry

Pinball Repair "Shop-Out" - Workorder - Electronic after 1977
Alamo Game Shop recently repaired and shopped out my 1992 Williams High
Speed II: The Getaway Pinba...
Date Added: 03/26/2013 by Jeb Lock
Generic Game Repair Workorder
Lee worked on my 1975 Big League baseball arcade game. I spoke to others about this machine and Lee ...
Date Added: 10/12/2012 by John Gogonas
Your IP Address is: 3.92.74.105